Description
Graycliff House
Graycliff was designed by Frank Lloyd Wright between 1926-31 for Isabelle R. Martin, wife of industrialist Darwin Martin, as a summer home for the family on the bluffs above Lake Erie in Derby, New York. The three buildings at Graycliff total over 9,000 square feet, all situated on 8.5 acres of land perched atop a 65-foot cliff overlooking Lake Erie in the village of Derby, Town of Evans.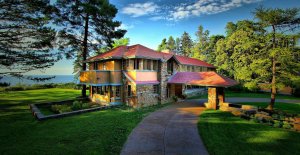 Martin House
The Martin House is a unique residential complex built for wealthy Buffalo businessman Darwin D. Martin and his family between 1903-1905. The most substantial and highly developed of Frank Lloyd Wright's Prairie houses in the Eastern United States, the house is considered by leading Frank Lloyd Wright scholars as one of Wright's finest achievements of the Prairie period and, indeed, of his entire career. The complex consists of six interconnected buildings designed as a unified composition.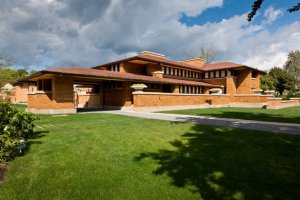 Itinerary
7:30 AM Pick up #1: Vaughan Carpool Lot (Colossus Drive and HWY 7, Vaughan)
8:20 AM Pick up #2: Oakville/Burlington Appleby Line Carpool Lot at HWY 407
8:55 AM Pick up #3: Grimsby Passenger pick-up: Grimsby Carpool Lot
9:40 AM Pick up # 4: Outlet Collection at Niagara Mall
11:00 AM Graycliff House: Extended 90 minute tour
1:25 PM Lunch: llio Di Paulo, Buffalo
3:30 PM Martin House: One hour tour
7:20 PM Drop Off #1: Niagara Gateway Centre: 30 minute Fast Food Dinner Break
8:20 PM Drop Off #2: Appleby Carpool Lot
9:00 PM Drop Off #3: Vaughan Carpool Lot
CANCELLATION POLICY
Please click here to view the tour cancellation policy.