By Ted McIntyre
OHBA's next president takes a stand for his beliefs
From his home of Sao Miguel Island in the Azores in 1972, 21-year-old Fernando Martins watched with growing anxiety as friends and acquaintances began returning in body bags. Termed Portugal's Vietnam, the bloody Guinea-Bissau War of Independence in the West African colony of Portuguese Guinea was into its ninth year. Recently married and the sole provider for his widowed grandmother, Fernando should have been exempt from the draft, but had to go through the formality of 'inspection' prior to being issued a carte militari to free him of mandatory duty.
"Unfortunately, he and his friends had a few drinks and got a bit rowdy, and there was a rift with some sergeants from the Portuguese mainland," explains his son, Rick Martins. "A fight broke out, and the young men subsequently all received orders to ship out in 30 days."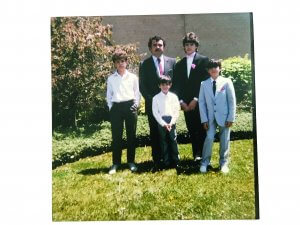 In order to ensure a future with his bride and the hopes of starting a family, Fernando knew he had to escape, and a plan was hatched to smuggle him out of Portugal, then mired under a Fascist dictatorship. Whereas his wife Maria, who had taken up sponsored residence in Canada three years earlier but returned to get married, could freely come and go, Fernando's exit would be more complicated. "My uncle took my dad to the mainland under the auspices of having to buy a new truck," Rick Martins relates. "My dad went 'underground' in Lisbon and crossed the northern border into Spain in Chaves. He didn't know how to swim, but somehow got across the river.
"Spain was also Fascist at the time, and he had to stay in a hole in the ground—an abandoned well at a farm—with three other men for three days," Rick says.
Thirteen days later, Fernando was smuggled into France, and eventually to Canada.
"My dad is my biggest hero," Martins says. "He risked everything to make life better for us."
Rick Martins is seated at the boardroom table of the Ontario Home Builders' Association office in North York, having made the drive in from St. George, a modest village midway between Brantford and Cambridge that better resembles early 20th century England than 21st century Ontario. It's only 8 a.m., but Martins, vice-president at Huron Creek Developments, has already gotten more done today than most marines. "My biological clock wakes me up at 5 a.m. every morning, regardless of when I go to sleep," he shares. The routine that follows regularly includes breakfast smoothies and yoga at the local YMCA. Martins is not tall—maybe 5'10"—but cuts a solid figure, suggesting his competitive wrestling days in high school and Brock University. "I'm a push-up and chin-up major," he jokes of his Phys. Ed. degree, but he's being modest. "Wrestling taught me how to overcome challenges. In team sports you can say, 'So and so didn't do his job,' but in wrestling, when you're on the mat, it's just you and me. One thing I'm proud of is that I did lose matches, but very rarely did I ever lose twice to the same person. When I was done, I went back and figured out why I lost and made sure it never happened again. That's all I've ever done in life."
"Made in Portugal but born in Canada," Rick Martins missed his first week of school when his grandmother passed away. "Mrs. Shuep was my kindergarten teacher," he recalls. "I ran into her about 10 years ago and she said, 'Rick, you're still the only guy who ever caught me at a loss for words.' It was that first day of school. I didn't really speak a word of English—just Portuguese. I mean, I knew how to say 'hi' and I watched The Flintstones and stuff like that. Mrs. Shuep said, 'Class, say hi,' and everyone said hi. And then she asked, 'What's your name?' And I said, 'Fred Flintstone!'
His Portuguese heritage would made things awkward on other occasions for Martins and younger brothers Gary, Kevin and Renne. "We were different. We were in a community where people got their meat from Zehrs—all wrapped up in cellophane—while we had a pig hanging in our garage and were butchering chickens. But that's how we were brought up."
The intangibles of that upbringing would breed the occasional confrontation. "I was taught from a very young age, 'You're not better than anyone, so don't ever pretend that you are.' But also that no one is better than you either, so don't allow people to pick on you—or others," Martins explains. "My dad always taught me that no matter your colour, creed, sex, religion—treat people the way you want to be treated. And if you see someone not being treated properly, stand up for it. And if that means you need to pop them in the nose, you pop 'em in the nose."
There were other ways to take that stand too, such as the day an 18-year-old Rick Martins was waiting tables at the Cambridge Holiday Inn. "There were two Asian gentlemen at one table. Two tables down, I had a couple guys from a Texas company—boisterous, rude. There were some really derogatory comments being made. I could see the tension building, but the Asian gentlemen were very professional. I went into the kitchen and said, 'Norm, get me those Texans' steaks now! I have to get 'em outta here.' They were still being derogatory afterward, and I said, 'Gentleman, I appreciate your business, but what you're doing is wrong and I wouldn't want it done to my family. So I've paid for your meals, but I'm going to ask you gentlemen to leave."
What Martins didn't realize at the time were that the two Asian gentlemen consisted of a V.P. of Toyota and another man who they were trying to recruit for a new plant in Cambridge. They left a $1,000 tip.
OLD WORLD WORK ETHIC
Martins' first paying job was as a nine-year-old, mixing cement for a freelance assignment his father and uncle Angelo had taken near Elora. "I'll never forget: nine shovels of gravel, three of cement, a pail of water," he says. "I wasn't big enough to turn the mixer over into the chute, though, so they built this little platform, and I had this stick, and went up step by step, pushing the stick up until the mixer eventually flipped over. Half an hour between loads, all day long. I worked three or four weekends without being paid anything. Then Gustav, the property owner, started giving me $5 on days I mixed the cement."
Martins' work ethic as a youngster was truly Old World. "At 14, I worked every weekend at a CNC shop, NBS General Machine. Fridays, after school, I'd work from 4 p.m. until midnight or 1 a.m.—whenever they needed me. Then 6 a.m. to whenever on Saturdays and Sundays. I did that until I was 16. Then came the Cambridge Holiday Inn, which is where I kind of learned what business and customer service was really about—processes, policies, going the extra mile, service with a smile—a genuine smile."
After his degree at Brock, Rick Martins hoped the vocational journey would eventually lead him to a phys. ed. teaching job, but extensive cuts in the sector under the new Mike Harris government left Martins scrambling. "I got into a little financial planning—debt consolidation, insurance. I'd also worked for my wife's family's building company, Sunlight Homes. What I know about building today, I really learned from her cousin, Manny Ribeiro. I'm not a framer, a bricklayer, cement finisher or a foreman, but I've done all those jobs. One thing I've subscribed to is that if you're going to do something, learn it. And I'm not afraid to get my hands dirty. I learned from Manny that it's not the homeowner's fault that the electrician didn't pull the wire—you take care of it—you made a promise."
Fast forward to 1999. With daughter Savannah two months from entering the world and no health insurance, Christmas around the corner and a niece having moved in, Martins was thumbing through the want-ads when he came upon a posting for a three-month contract at East Forest Homes: "It said, 'Looking for enthusiastic, young, entrepreneurial minded, good with numbers, some construction background.' And I'm like, 'I'm all of those things!' So I go into the interview with owner Peter Catana, and for his first six questions, my answer was, 'No, I can't do that."
"The interview went so bad that I didn't even tell my wife Anna about it. The next morning I'm on my way to Windsor and the car phone rings—keep in mind that these were expensive calls at that time. It was Anna and I was hoping everything was OK. She said, 'This guy called about your interview and wants you to call back.' Peter had a three-month contract with 12 plans—five townhomes and seven singles—that he needed to be estimated and contracts tendered.' I said, 'OK, but you realize I'm not an estimator, right?' He said, 'That's OK' I can teach you.' That was November 28, 1999. If you go back to my HR file at East Forest, there's nothing official there—I came in on a handshake.
"On Dec. 17, I knocked on his door and said I had everything done, so he could just pay me for one month and I'd be out of his hair. He said, 'No.'
"Being a 26-year-old Portuguese, I'm thinking, 'I just saved this guy two friggin' months and he's not going to pay me for one month?!' I think he saw me getting bright red, and said, 'No, no.no. I have two months' more work for you!"
"Two months became 18 years. Then Activa came along and made him an offer in 2016 that he couldn't refuse," Martins says. " I was supposed to stay on, but it wasn't a fit. When Peter found out, he called me up and said, 'Do you want to do it again?' I was able to pick my team from the best employees, start small and get back to the basics, what I love—being in the trenches."
THE EXTRA MILE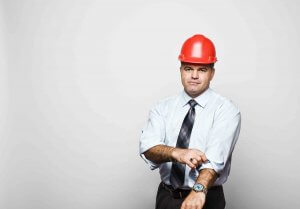 "We're a business," Martins notes, "so we have to make money to pay employees and stuff. But we're trying to make a difference at Huron Creek Developments. We built the first VisitAble units in Ontario last year, 42 West Acres—accessible with larger doors and other details. We built nine of them in a stacked format, showing how they could be integrated into different built forms. This year, we're scheduled to do a complete site in Simcoe of bungalow townhomes—Portside—that will all be VisitAble for aging people to stay in place or stay in the community.
"Inclusive living is about allowing people to have choice to fit into society with as little difference as possible," says Rick Martins. "And I don't think you want to legislate it—every time something is legislated, it gets screwed up. If you get in front of the right people—builders, industry, the councillors—we will change the conversation, then everyone feels like they're part of the solution instead of being regulated to do it."
Martins is motivated by his cousin Tiffany, who was born with complications. Martins saw first-hand how an accessible home could improve the quality of life for both Tiffany and her aging parents. If you have the time, he'll reel off the names of others who have inspired him—all of them: from Ms. Garside, the young GM at the Cambridge Holiday Inn, to Chris Lowry, his high school wrestling coach and now best friend—"He made me accountable and taught me that no matter how talented you are, there's always someone there willing to work harder"—to the late Trudy Beaulne, the head of VisitAble Canada who challenged Martins to think outside the box.
Doing the right thing also included a 2012 humanitarian project in the Dominican Republic, not far from the Haitian border. "It was James Bazeley's dream as president, but he couldn't get it done under his term, so Doug Tarry carried it forward as president," Martins says. "The town was called Agua Negra, which translates to Black Water. When we left, they ended up changing the name to Agua Vita, 'Water of Life.'
"I was able to take my wife, my two kids, my niece and my mother-in-law down there with me, and we stayed at a resort not too far away. It was an unbelievable teaching moment, with the kids seeing the lack of indoor plumbing. The sewers were a hole in the wall, and when it rained it kind of washed up and down the street. We had a hammer, a crowbar missing the heads and a saw that was so dull that if you turned it upside down, it cut just the same. There was no such thing as an electric tool. My family was sifting sand so we could make concrete. "We walked into one home and there was a gentleman with gangrene.
We walked into another house and their pigs were living with them because they might be stolen if they were left outside. My wife and the kids spent a lot of time cleaning up the beach, because we were going to do the presentation there, but part of the reason they called it Agua Negra is because the town is in a lower area and the garbage dumps all sit up high, and after every major rainfall, everything gets washed down there.
"On my second day, this little boy came and asked if he could help. I asked if he was helping because this was his mommy's and daddy's home. He said, 'No señor. I help because maybe one day you come back and build a house for my mom and me.' I get goosebumps just thinking of it. It's by far the best trip I ever took in my life, and I would do it again in a heartbeat."
The job at hand, though, is as OHBA's next president, and Martins is ideally suited, suggests outgoing president Pierre Dufresne. "Rick is a really special guy. He has an incredible knowledge of both the technical construction and policy sides of our business. And I don't think I've met anyone more passionate about our industry. He'll speak from the heart, and it's not just speaking for the benefit of the industry or to influence a policy one way or the other—it's true personal conviction. He'll never do anything to compromise the industry for his own benefit. He really cares about the bigger picture."
"He truly believes in making a difference," adds Huron Creek's Production and Land Development Manager Carlos Da Silva, who, as a friend of Rick's brother Gary, has known Rick Martins since he was seven. "He takes a team approach before making a decision. He'll gather all the input from purchasers and look for group opinions at the office. You'll get a good idea from one person, then someone else gives thought on it, and you make it into a great idea."
As for challenges on the home front, Martins senses the need to strike a balance. "For the past year and a half, especially with all the politics that entered into home building with the elections, inclusionary zoning, OMB and Tarion, there were a lot of big files that were put out and a lot of turmoil and uncertainty that was caused in our industry. Let's stop the car, ask for directions and work together to figure out where we want to go and how to fix this. Because interest rates are going up, and first-time homebuyers are already having a hard time qualifying with the new mortgage rules. We've got to tackle that right away, because the goal of homeownership is extremely import. It's what my parents came here for, it's what I worked so hard for, it's what I want for my children and my children's children."
Skilled trades is another issue on the front burner. "I think it's really important to get it down to a one-to-one ratio," Martin says. "The biggest problem with trades isn't a today thing—it was the changes in the school system through the '90s when they took shop class out. Now they're trying to force it back in. I tell all my builders and friends in this industry, 'Let's not point fingers; let's start ourselves.' With my own company now, although we're small, each semester we've taken on two co-op students, and I'll place 10 kids with trades."
Rick Martins' profile picture on Facebook is a close-up of him holding a live starfish while the family was down in Marco Island, Florida, and it triggered a recent memory. "Today I saw a kid from my old high school, who was a wrestler but had problems with focus at school. When he saw me he said, 'Hey Mr. Martins, I'm working with Hunter Framing.' I said, 'Great—that's just for the summer, right?' He said, 'No, I'm going back to school. You're right—I need to get my Grade 12.'
"It's little examples like that that will catch," Martins says. "I love the story of the gentleman walking on the beach who picks up a starfish and tosses it back into the ocean. Another guys says, 'You've been here all morning throwing starfish into the water, but there are still thousands of them on the sand here. Do you really think you're making a difference?' And the first gentleman tosses the next starfish into the ocean and says, 'Well I made a difference for this one.
Welcome Rick Martins, from everyone at OHBA. Visit www.huroncreek.com
Become a member of the Ontario Home Builders' Association.