By Marc Huminilowycz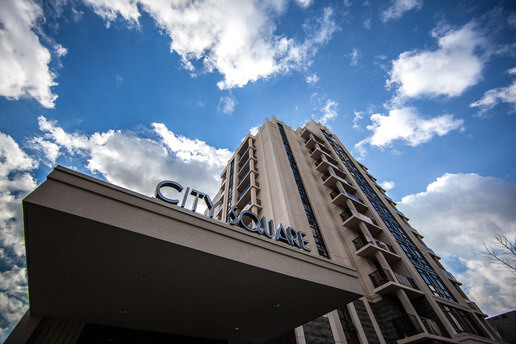 As we may remember from our high school science classes, our planet has an extremely hot core. At a blistering 4,000ºC, this inner heat radiates outward     to the earth's surface. Combined with heat from the sun warming the ground, the temperature of the top 200 metres of Earth's crust stays pretty much constant year round. In Ontario, the temperature of the ground six to 10 metres below the surface remains at approximately 7º to 12ºC, regardless of the extremes in air temperature.
Geothermal heating and cooling technology, otherwise known as geoexchange and ground-source heat pump, has been around for many years. The system is simple and elegant. Using an electric heat pump, heat energy is extracted from the ground via a U-shaped piping loop that carries a heat transfer fluid (usually water/ethanol mix) to warm a building in the winter. In the summer, the system cools the interior by extracting heat and depositing it back into the ground.
The energy costs of using a geothermal system are typically 25% to 50% lower than other HVAC systems. And because no fossil fuels are burned on-site, they generate much lower CO2 emissions. (According to data from the U.S. Department of Energy, a typical three-ton residential geothermal system produces about one pound less of CO2 per hour than a conventional system.)
Considering the lower maintenance costs and longer equipment life compared to other HVAC systems, it begs the question why more residential builders are not embracing the technology to heat and cool their projects. While geothermal heating and cooling has been widely adopted in northern European countries and in the southern U.S., it is estimated that only about 1% of existing buildings in Ontario are utilizing this cheap, abundant and sustainable energy.
According to Stan Reitsma, president of Geosource Energy Inc. and V.P. of the Ontario Geothermal Association (OGA), the issue lies with the high up-front cost of the system (around $25,000 for a single-family home) compared to conventional HVAC (approximately $10,000 to $12,000), not to mention the responsibility for maintaining the system in the long term. "The ground loop is a sticking point for developers," says Reitsma. "There's a delineation line where the pipes come into the building. It's unregulated territory, and developers are reluctant to take this on.
"The idea of building in a geothermal loop has never previously been considered a long-term utility asset for single detached homes, but it is beginning to gain traction," Reitsma adds. "With geothermal, developers can expect a 10% to 15% return on their investment with respect to heating and hot water, but especially with cooling costs. Plus there are the added benefits of extra floor space, reduced noise/visual impairments and valuable roof space."
In order for geothermal to be widely adopted by developers, Reitsma believes that the technology needs significant government incentives. In his role with the OGA, Reitsma has been meeting with Ontario government officials to position geothermal as a viable low-carbon technology that must be included and incentivised as part of the Climate Change Action Plan, the first phase of which include incentives for retrofitting existing homes for greater energy efficiency, while phase two will offer something for new residential developments.
"We would like to get to a point where incentives are not grants," says Reitsma. "It would be better if we got to a level where geothermal markets are sustainable, helped by incentives—much like electricity rebates. In the long term, this allows end users to benefit from the value of the technology." Reitsma would like to see utilities involved as geothermal energy suppliers in multi-residential developments—to the point where geothermal becomes a default technology.
Enter Enbridge Gas Distribution, which has embarked on a pilot project in Innisfil, involving four single-family geothermal homes to be built by developer partner SanDiego Homes. As the first stage in developing geothermal heating and cooling solutions for Ontario's new-home market, the project is designed to monitor the performance and operating costs of the technology.
"We started investigating geothermal in 2016 when we were looking for ways to expand gas services to remote regions of Ontario," says Steve McGill, Enbridge Senior Strategist, Business Development. "Our proposal to the Ontario Energy Board prompted a cost-effective geothermal option from an interested party."
Looking into Ontario's geothermal market, Enbridge discovered that the technology had not taken off, primarily due to the aforementioned up-front costs. But it also became apparent that the geothermal industry in this province is small and fragmented. Installations escalated in 2010 after government geothermal funding came into place, but dropped off quickly once the program concluded.
"We need to look carefully into geothermal: how to overcome the barriers, how it fits into cap-and-trade and how funding from the government's Climate Change Action Plan could help with part of the initial installation costs," says McGill. "Bringing in the utility model would allow us to supply the geothermal loop and, with government funds, amortize the costs over a long term."
Enbridge has been actively involved in numerous discussions with Ontario's Ministry of Environment and Energy, and is collaborating with the OGA to work on a business model. According to McGill, the company's primary target market is new residential construction, bringing in a geothermal product line and process designed to drive down costs through economies of scale.
"It will offer many benefits to new residential builders," suggests McGill. "Builders like to differentiate themselves in the marketplace. With geothermal, they can market to consumers a greener solution with little or no up-front cost, tremendous efficiencies compared to conventional heating, cooling and hot water, and a long-term hedge against carbon costs."
When asked why a gas distribution company would consider going into the geothermal business, McGill replies, "It might seem like a left-hand turn, but this fits into our company's long-term goals. As an energy company, Enbridge has invested over $5 billion since 2002 in wind, solar, geothermal, hydro power and waste heat recovery projects. As at December 31, 2016, these projects represent 3,026 MW (gross) of green power capacity. Geothermal is an opportunity to grow beyond gas, diversifying our business while maintaining a good value proposition."
While Enbridge is just embarking on its pilot residential geothermal project, two Ontario developers have already erected several such condominiums in the Hamilton/Burlington/Stoney Creek region. New Horizon Development Group has no less than seven mid-rise geothermal projects under its belt: Aldershot Residences, Haven Condos, Vibe Condos, Mint Condos, City Square Condos, Waterfront Trails and Westwood, with Sapphire Waterfront Condos under construction in Stoney Creek.
"Why did we go geothermal? My kids made me buy a hybrid car, so we decided to start building homes in a more environmentally friendly way," says New Horizon President Jeff Paikin. "By using an engineered model for our geothermal installations, we can offer a fixed monthly charge, rolled into the condo fees, that covers the capital costs and maintenance of the system. The best part is that this rate is known and fixed over a 30-year contract, compared to metred gas prices, which are low today but could go up at any time."
Paikin estimates that energy savings can add up to 15% to 28% per year compared to conventional gas or electric heating and cooling. And there are additional benefits. For homeowners, each suite has its own self-controlled air handler with individual temperature control of the ducted geothermal forced air system. For building owners, unlike conventional condos, New Horizon's geothermal projects have no boiler room. A 10'x20' geothermal room is situated underground, usually in the garage. And geothermal is also used to pre-warm the home's hot water supply, requiring less energy (gas or electric) to raise the hot water temperature, as well as for heating ramps to the underground parking garages. "Although there are no government subsidies available now, building with geothermal makes neutral financial sense—neither overly good nor overly bad," says Paikin.
Vince Molinaro, president of Molinaro Group and a Past President of OHBA, sees a bright future for the energy use. His company has built two geothermal condos, including Strata. Completed in 2013, it was a collaboration with Ameresco Canada Inc., an energy management company that provides sustainable solutions and facility renewal services.
"Ameresco put in all of the geothermal infrastructure. Under an agreement, the condo corporation paid a fixed fee amortized over 30 years to cover the installation and maintenance," says Molinaro. "Recently, the condo board decided to buy the geothermal system from Ameresco, so they now own the utility."
Molinaro's other geothermal condo, The Brock, is a rental unit built in 2015, originally owned by the company but recently sold to another buyer. "Because we owned the building, we could justify the cost of putting in geothermal," he says. "It was this feature that attracted the buyer who appreciated having utility costs that are set."
While Molinaro currently has no plans to build additional geothermal properties, focusing instead on constructing rental units, he admits that when federal or provincial officials introduce geothermal incentives, his company will definitely be interested. "When the government steps in, I think more and more builders will come on board. We're all doing things in our own way to be more sustainable."
The Benefits of Owning
a Geothermal Home
Looking to sell potential buyers on the merits of geothermal? Here are a few incentives:
Lower Utility Bills
In fact, they're 25-30% lower than with conventional systems. Heating and cooling costs for a typical 2,000 square foot home can run as low as $1 per day.
Lowest Maintenance and Life Cycle Cost –
That's lower than any other heating and cooling system.
Virtually Free Hot Water
Waste heat removed from a home's interior during the cooling season can lower hot water costs by about 30% annually!
Higher Levels of Comfort
Cooler in the summer and warmer in the winter keeps occupants cozy year round.
 Fewer Greenhouse Gas Emissions
Since a geothermal system doesn't burn fossil fuels to produce heat, it generates far fewer greenhouse gases than a conventional furnace, even if you factor in its share of emissions from the power plant that provides the electricity to operate the system.