By Ted McIntyre
THE OLD-SCHOOL, PROFESSIONAL, HIGH-TECH APPROACH
Recent projects and continuing community support help give nod to OakWood as top renovator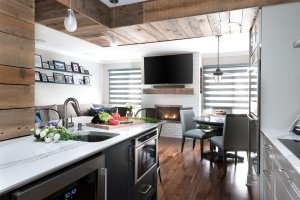 Ottawa knows how to renovate a home, with local firms accounting for all three finalists in the 2018 Ontario Renovator of the Year category—a city sweep that only occurred in 2015. But standing above the rest this year was OakWood.
A winner in the Best Kitchen Reno category and runner-up in two others at this year's event, the 62-year-old company is renowned for its technology-driven innovation, as demonstrated by its partnership with Tesla MPOWER Powerwall for solar roofs, which stores solar energy for later use, thereby reducing reliance on the grid and lowering the electric bill. OakWood's High Performance Initiative with Mike Holmes and The Holmes Group, meanwhile, leverages additional design-build expertise, allowing it to provide energy-efficient, sustainable services and products exclusively available in Ottawa.
Fourth-generation and family-run, the company actively participates in ongoing support for local organizations and charitable causes, including the Orleans Chamber of Commerce, Algonquin College and several local sports teams.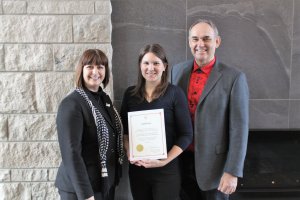 Core Values
"I think our core values of believing that our clients' experience should be second to none, processes that push the limits on the industry status quo, and our team's professionalism and passion set us apart," says Tarndeep Singh, Communications Specialist at OakWood. "And everything we do is enhanced by high-performance technology. A big focus for us this year has been new innovations and technologies surrounding the home, as we think there is going to be a disruption in the home building industry in the coming years, just like there has been for cellphones and cars."
OakWood Believes In Open Communication
OakWood also prides itself in its communication. "There are always those projects where you discover something completely unexpected when you open up the walls," says Singh. "Whether it's a hidden staircase, asbestos-containing materials that were covered up or very poorly done electrical, it's important that we properly access the situation and present the homeowner with options. Any challenges that arise on a project can be overcome, as long as the lines of communication remain open and the information is transparent."
Singh says his firm holds OHBA's Annual Conference and Awards of Distinction in high esteem, whether they come away with a trophy or not. "This is a tough industry and it's easy to get caught up in the day-to-day operations, so it is important for companies to take time and acknowledge the hard work that we do, as we are changing people's lives," Singh notes. "The OHBA AoD is a great way to see what other companies are doing and what the current trends are. While there is always some competitiveness at an awards gala, it is a fantastic venue for us to learn, interact and network."
Originally published in Awards 2018 Ontario Home Builder