By Sarah Niedoba
Experts weigh in on Canada's immediate economic future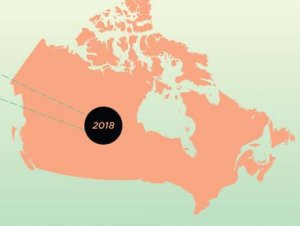 It's hard to deny that 2017 was a strong year for the Canadian economy. A slight slowdown in the third quarter aside, the first half of the year saw GDP growth skyrocket, thanks to strong consumer spending and a red hot housing market. This trend influences the 2018 economic forecast.
"We predict that 2017 will (have finished) with a very strong growth of 3.1%, which can largely be attributed to three factors," says Jean-Francois Perrault, chief economist at Scotiabank. "First, much stronger consumption growth than anticipated—helped by low interest rates, strong job growth and the Canada Child Benefit. Second, much more strength in the housing market than anticipated. And finally, a pick-up in business investment."
Heading into 2018, a slight slowing of national growth seems likely, as both consumer spending and housing prices soften. The Bank of Canada, having raised the overnight rate 50 basis points from a historically low 0.5% since July, is likely to hike it further early this year. But don't fret too much, suggests Marc Pinsonneault, senior economist at National Bank.
"A major factor that could impact national growth would be another interest rate hike. Nevertheless, I believe the economy is strong enough that this kind of monetary policy will have a limited impact," says Pinsonneault. "In fact, given the strength of the economy in the first half of 2017, it is probably a good thing."
Perrault agrees that a hike could affect the economy, but predicts that the Bank will wait until the spring to make the move.
Several unknowns remain heading into the new year. For one, economists are uncertain about what a terminated NAFTA could mean for the Canadian economy in their 2018 economic forecast.
"When it comes to 2018 growth predictions, you have to take into account the challenges and uncertainties that are looming in the trade sector," advises Pinsonneault. "Right now, the National Bank's basic scenario for growth doesn't account for the termination of NAFTA. We're predicting a rather optimistic growth rate of 2.8%. But that doesn't take into account a trade disruption—and we can't really say what would happen if that were to be the case."
Perrault's predictions are a bit more conservative. "We're going to see growth slow significantly," he says. "We predict a growth of 2.2%. Consumption and housing should slow given the strength we observed in 2017." Perrault says that NAFTA negotiations will likely impact when—and if—the Bank of Canada will decide to increase rates. Of course, no discussion of NAFTA can occur without a certain name factoring in. "The presidency of Donald Trump and the decision to renegotiate NAFTA introduced some uncertainty into the market, that might have convinced some businesses to delay investment expenses in Canada," says Pinsonneault. Still, he says that the so-called 'Trump Effect' had a relatively mild impact on the Canadian economy in 2017.
"Earlier in the year, investors were excited about the prospect of Trump's pro-business agenda," says Pinsonneault. "At some point, they lost faith in it, but that had relatively little impact on the market."
How might the Trump presidency affect the economy this year? "Investors seem encouraged by current budget negotiations," says Pinsonneault. "For sure, they expect the implementation of any package to be delayed and to have less effects than originally expected, but they have hope that it will be a positive outcome for businesses."
One reason for Pisonneault's optimistic outlook is the two looming provincial elections. "We have major elections this year in Ontario and Quebec that will likely mean increased government spending in those provinces," he says. "That's in addition to a coalition government in B.C. that will also be inclined to spend more."
Perrault predicts that Alberta and B.C. will both see slight declines in growth in 2018 after healthy growth last year. Alberta witnessed a rebound in its energy sector as it recovered from the 2016 Fort McMurray fires and B.C's booming housing market continued its strength. "For 2018, we're going to see more balanced growth in both provinces," adds Perrault, who foresees 2.3% and 2.5% growth for Alberta and B.C., respectively.
And what can we expect from our neighbours to the south in the 2018 economic forecast? Perrault believes that strong consumption growth combined with a rebound in industrial activity will keep the U.S. in excess-demand territory into 2018, "even if Washington proves unable to deliver on meaningful changes in taxes and spending."
Perrault forecasts the Federal Reserve will raise rates twice in 2018. He adds that the appointment of Jeremy Powell as Chair of the Board of Governors of the Federal Reserve System, replacing current Chair Janet Yellen, will see little change in the U.S.'s fiscal policy. "This is largely because he seems to have the same policy orientation as Yellen did, and he currently sits on the Board of Governors," says Perrault. "The other candidates under consideration seemed to have a much more hawkish disposition, so might have raised rates more rapidly." Perrault forecasts that the U.S. will grow by 2.4% this year, building on strong consumer growth.
With respect to Ontario, Perrault forecasted end-of-year 2017 growth rate to be 3.1%, when the numbers were crunched, due to strong consumer spending mixed with a record-breaking housing sales in the first quarter of 2017.
For 2018, Perrault predicts Ontario's growth to slow slightly to 2.3%, as the government's Fair Housing Plan causes the housing market to balance out further.
As for the Ontario home building market, National Bank senior economist Kyle Dahms says we'll likely see a more balanced year, after a red hot 2017. In 2016, Ontario saw 74,952 housing starts. Dahms estimated a whopping 80,500 for 2017, with a slowing to 69,000 for 2018.
Dahms is seeing building permits start to slow in the Greater Golden Horseshoe. The impact of interest rate hikes, combined with a new mortgage stress test now taking effect will likely lead to further declines in 2018 and "a much more normal pace of starts in the region."
Pinsonneault agrees that Ontario will likely see a slowdown in his 2018 economic forecast. "If you look at the current market in Toronto and the GTA, market conditions went from very tight to what I would call balanced. And it's not bad to have a balanced market. In fact it's quite good from an affordability point of view."
The slowing of starts can also be attributed to supply. According to Dahms, given a boost of starts at the beginning of 2017, there should soon be more on the market to meet buyer demand in the new year."
Become a member of the Ontario Home Builders' Association.