By Jonathon Oke
FRAMTASTIC CAREER NOT DONE YET, SAYS GIANNONE
There was a certain symmetry not lost on Frank Giannone as he accepted the Lifetime Achievement Award from OHBA's incoming president, Bob Schickedanz, during the President's Gala at OHBA's 2019 Annual Conference at Blue Mountain Resort in Collingwood—the same place, in fact, where Giannone was announced as OHBA president 11 years earlier.
"Bob and I are both civil engineers. We both have a John and a David in our family. And my father is still working. And he's got a lot to look ahead to (in order to) keep up with (Bob's) dad, since my dad is only 89," Giannone mused.
His father, Giovanni Giannone, emigrated from Italy to Canada in 1957, the third generation of a family of general contractors from southern Italy. After brief employment as a mason, Giovanni began his own masonry company in 1959, with a little home building on the side. In 1981, following the graduation of Frank, his oldest son, Giovanni created FRAM Building Group (named after his four children: Frank, Ralph, Antoinette and Mariana).
With Frank as president, the FRAM team "were among the first to recognize the potential of building complete communities along transit lines, eliminating the need for cars and easing congestion," Schickedanz noted. "In 1989, at the age of 29, Frank served as president of the Toronto Home Builders' Association, now known as the Building Industry and Land Development Association (BILD). Frank has a lifetime of experience in the residential construction industry, which made him a valuable addition to the Tarion Warranty Corporation Board of Directors, on which he served from 2010 to 2018.
"Frank is a home-building mentor to many and always has time to engage the next generation of builders interested in pursuing careers in our industry," Schickedanz added.
"I really, really appreciate this," Giannone told the crowd. "When I look at the list of my predecessors who have received this recognition, it's clearly directly related to one's belief in home builder associations and the good work our industry does for Canadians. And it's a two-way street. We as participants get back as much as we put in. I'm a believer that at the same time we are teaching and strategizing improvements to our industry, we're also still learning. Yes, we built the subdivisions, the homes and condominiums, which many people aspire to own. But we also build the rentals that people need. And we build the affordable housing that all levels of government rail about, but that so few actually have the commitment to make happen to the degree that is needed.
"In my case, to be able to spend the time to do the things our industry needed from me, things I enjoyed participating in, I cannot highlight enough the importance of my family's support," Giannone said. "My earliest, clearest memories include me following my father around his sites, with my Tonkas in tow. I was building roads on that pile of brick sand. I couldn't have participated in our industry leadership without my father's prodding and support. I thank him for his council, his leadership, the opportunity to be a builder and the example he set."
Giannone also highlighted his four children, three of whom are in the business. Witnessing their success and knowing they are nurturing a fifth generation of leadership has "added wind to my sails," he said.
There was special praise for his wife, Marina. "When the children needed parents, she filled the role for both of us," Giannone said tearfully.
Giannone admits to missing being on the front lines as a board member of Tarion, "but I don't envy what's expected of the current board," he said. "They're holding down the fort. Minister (Steve) Clark is making many positive steps for our industry. And as he's making them for our industry, he's doing so for consumers. The potential is there, though, that another ministry will be making more changes to the Tarion program. Our buyers are going to be paying quite a bit more. And for many in our industry, get ready, because customer service business models are going to be changing. Our industry is about to become even more regulated."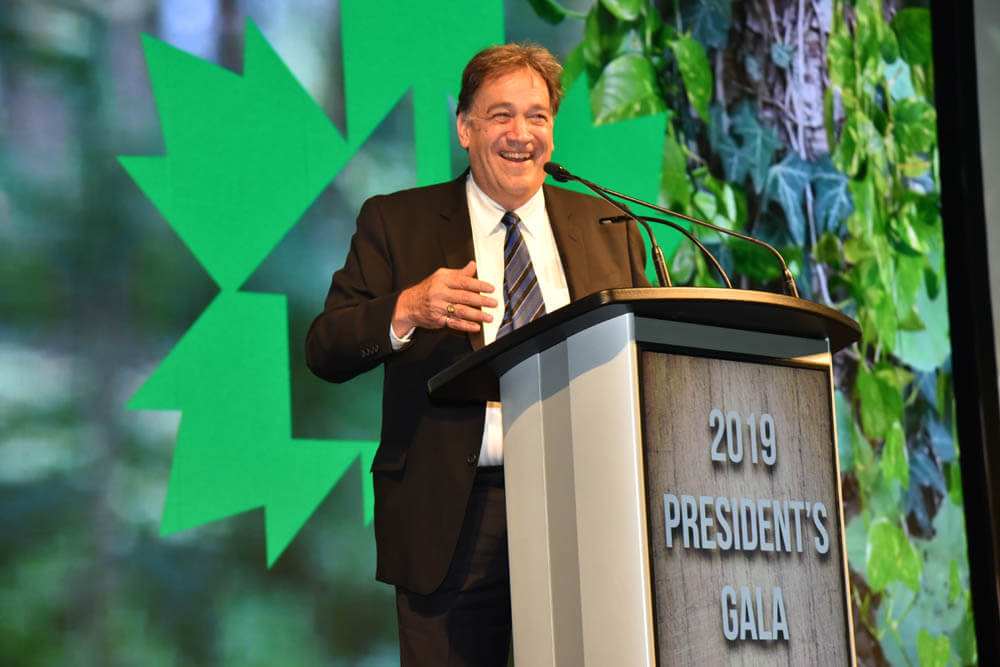 Despite the challenges, FRAM looks forward to current and coming projects, particularly opportunities where the community can interact. Six years ago, when Giannone was asked by Mississauga News what architectural achievement he found most awe inspiring, he quickly replied, "the Pantheon in Rome."
Designing places where people will gather has always been close to his heart. "When you look at old Europe, some of the nicest places you visit, people are out there constantly," he told the News. "How we design our buildings and how we put them together is (only) step one; it's really how we take care of people."
Giannone plans to do a lot more of that. It's why he admits to being a little uneasy upon first discovering that he was being considered for the Lifetime Achievement Award.
"I believe I am too young," he says, only partially in jest. "I hope that ahead of me I have a lot more to give our industry."
Become a member of the Ontario Home Builders' Association.