By Ted McIntyre
BUILDING ON EXCELLENCE
Tridel Makes It Four Top Builder Honours
"As a parent, you're not supposed to have a favourite child," Andrea DelZotto smiles, "but when I think of Aqualuna at the Bayside community, it is pretty special."
DelZotto, Director and Executive Vice-President of Tridel Group of Companies, is referring to her company's latest condominium project at Merchants' Wharf and Queens Quay East, voted Project of the Year (mid- or high-rise) at the Ontario Home Builders' Association Annual Awards of Distinction at Collingwood's Blue Mountain Resort in September.
The fourth and final of the company's waterfront condo creations among the Bayside development, the stunning Aqualuna, a joint effort with fellow developer Hines and designed by the renowned Danish architecture firm 3XN, played a part in Tridel's 2019 Ontario Home Builder of the Year Award—the second time in three years and fourth overall for the Toronto-based developer.
It's a marquee distinction that never gets old, DelZotto observes. "We're humbled and a bit overwhelmed. It's hard to get to the top, but harder to stay there, so we never take it for granted. Something I shared with our entire company at our annual update recently was that people look at us as being experts at what we do, which is a compliment. But we're entrepreneurs too, in that we have to always keep learning and creating. It's so not so much a feather in our cap as a nudge to keep improving—to build it even better next time."
That philosophy is part of Tridel's "Built for Life" trademark, which drives the company's commitment to excellence. So when DelZotto says it's all about teamwork, it's anything but trite. "We like to say, 'It's not one of us; it's all of us,'" she notes. "You have to be beautiful inside and out, and you can never compromise good functionality for great design. But it's incredible when you nail everything, and that's the result of every single person doing their part phenomenally well."
So too is the 2019 Builder of the Year honour multifaceted. But Tridel has all the boxes checked, with recent launches also including condominium residences at The Well, Chateau Auberge on the Park and Edenbridge. It also covers the award's "new building concepts" category by leading sustainable residential condominium development in Canada, with more than 20% of the country's commercial certified LEED multi-unit residential buildings.
The highlight with respect to sustainability this year was Tridel's NetZED Suite at its nearby Aqualina condo, powered by renewable electricity and hot water all year round. The company has also expanded its innovation through smart and sustainable elements like Tridel Connect, a suite of Smart Home technology in the living spaces and common elements, designed to make life simpler for residents.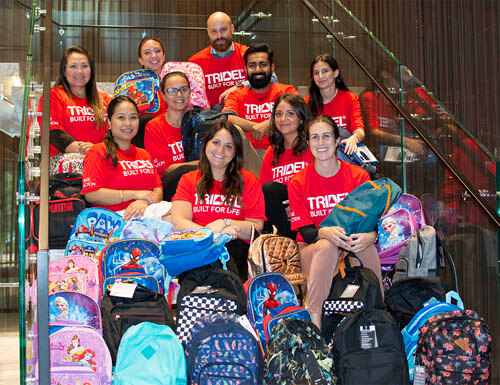 Other key ingredients of the recipe include support of its employees, as well as philanthropic efforts and community initiatives that ensure Tridel's neighbourhoods remain places where people can work, live and play. A prime example is its W.I.S.E corporate social responsibility strategy, which is focused on four pillars: workforce, industry, society and environment. Last year, through the W.I.S.E program, over 120 Tridel employees participated in 35 charitable events. And DelZotto has had first-hand experience. "I think of our partnerships with Toronto Community Housing and of our SQ at Alexandra Park community at Spadina and Queen, and all the collaboration with those residents. They're allowing us to be part of their community, and, at the end of the day, they're teaching us about the community, because they just get so much right. I always learn when I participate in something there."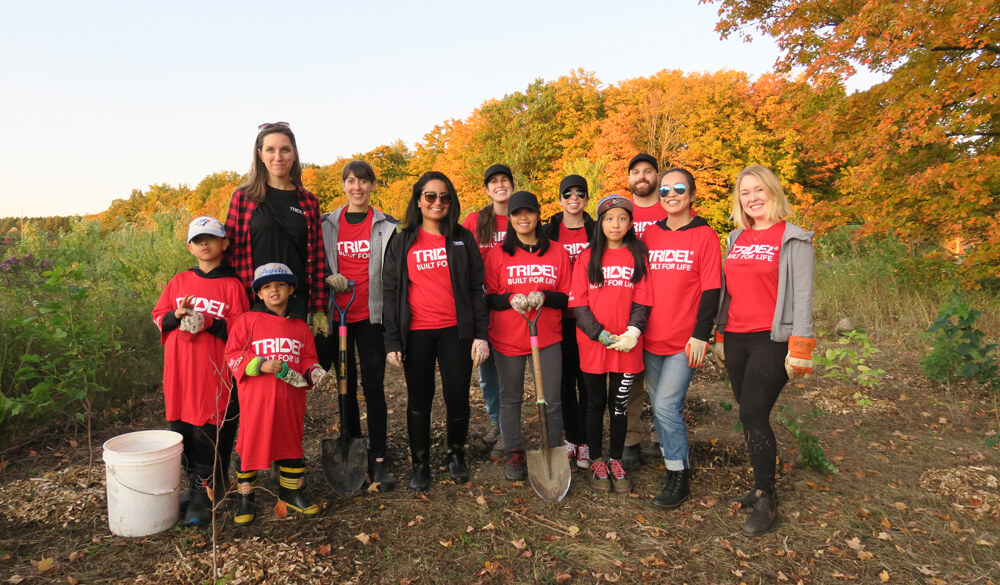 Tridel also continues to contribute through its charitable foundation, BOLT (Building Opportunities for Life Today).
Founded in 2009, it has raised more than $3.1 million for career youth engagement programs in the construction field and given out over 340 scholarships. "Promoting and investing in careers in construction is such a necessity right now," says DelZotto. "But we're also investing in people who live in our communities and providing them with those opportunities. It's something our team does that I'm enormously proud of."
Many of those young people have since entered the employ of Tridel, notes DelZotto, who says community engagement is an increasing trend among staff. "One of our pillars is our workforce, and we have a generation that's joining Tridel with an expectation of us demonstrating corporate social responsibility. They're looking for opportunities to contribute, and the uptake has been incredible.
"We always say there's a triple bottom line: people, plan and profit," DelZotto observes. "These awards speak to the fact that we do things beyond the bricks and mortar," he said in response to the 2019 Builder of the Year award at this the annual OHBA conference.
Become a member of the Ontario Home Builders' Association.